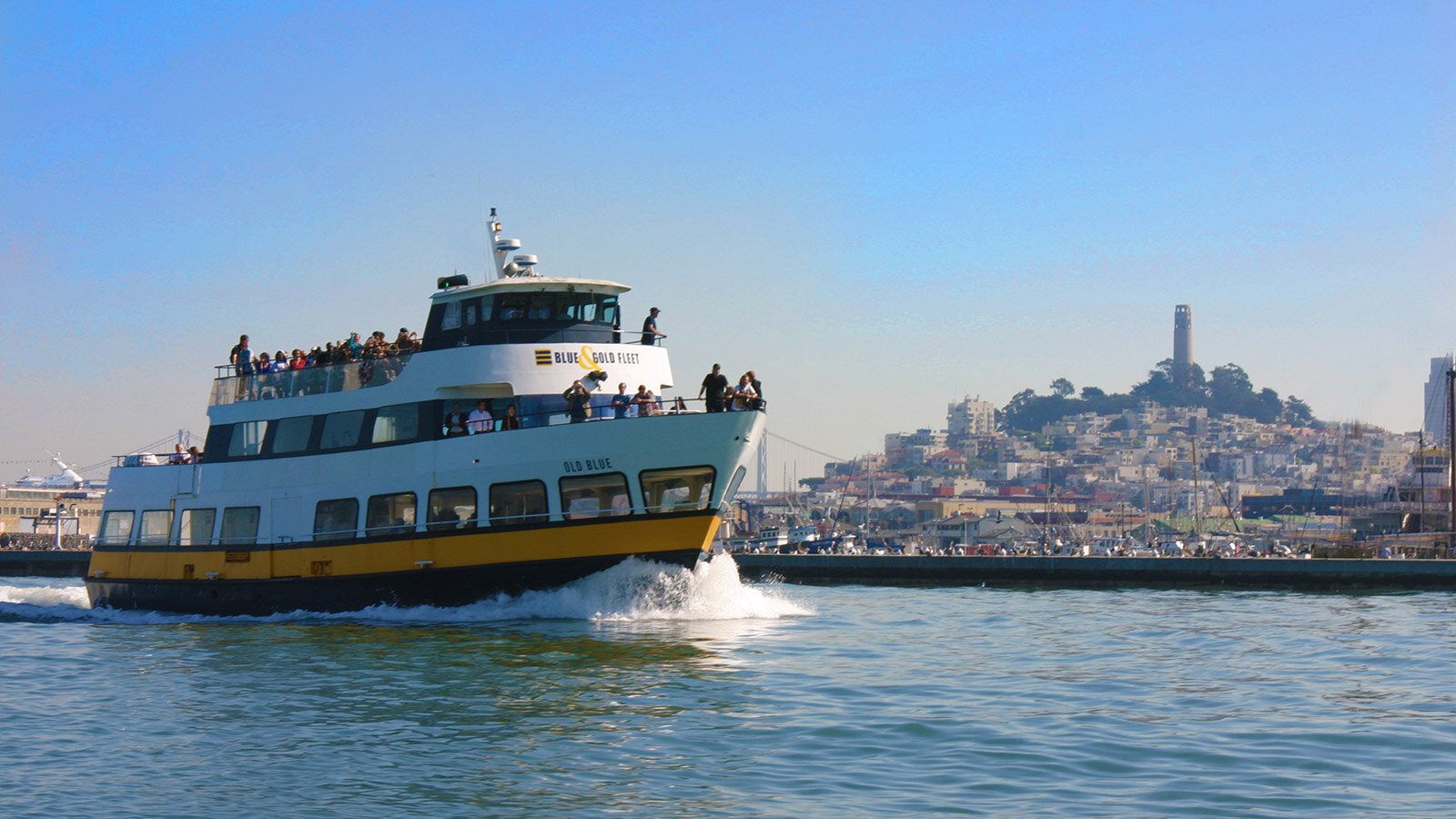 VISITOR INFORMATION
Blue & Gold Fleet is committed to providing guests with excellent customer service and a memorable experience on the San Francisco Bay. Please know that we value your feedback and take your comments into consideration.
If you have a suggestion, a question regarding Blue & Gold Fleet service schedules or need immediate assistance, please call 415.705.8200 during regular business hours, fax 415.705.5429 or email us.
BOX OFFICE HOURS
The Blue & Gold Fleet Box Office at PIER 39 is open 7 days a week from 8:45am – 4:15pm.
The Pier 41 Box Office is temporarily closed.
DIRECTIONS
If you are using a GPS Navigation System, input: Pier 41, San Francisco, CA 94133.
Take Highway 101 North to Highway 80 East.
Exit at 4th Street.
Stay left onto Bryant Street (get in right lane).
Stay on Bryant Street to The Embarcadero.
Turn left onto The Embarcadero (get into right lane).
Straight to PIER 39 (2 1/2 miles).
From the North Bay:
Take Highway 101 South across the Golden Gate Bridge Pass through the Toll Plaza and stay to your left.
Take Lombard Street Exit (on right side).
Follow Lombard Street to Van Ness Avenue.
Take a left onto Van Ness Avenue (stay right).
Follow Van Ness Avenue to Bay Street (about three blocks).
Turn right onto Bay Street and follow it until it runs into The Embarcadero.
Turn left onto The Embarcadero. You will see PIER 39 on right side of the street.
From the East Bay:
Take Interstate 80 West across the Bay Bridge.
Take Fremont Exit (on right side).
Stay in far right lane.
Turn left on Folsom Street.
Follow Folsom to The Embarcadero.
Turn left onto The Embarcadero.
Straight to PIER 39 (approx. 2 miles).
PARKING
Blue & Gold Fleet is located next to
PIER 39.
The PIER 39 Entrance Plaza features a passenger and taxi-loading zone. PIER 39 also has convenient visitor parking in the
PIER 39 Parking Garage
, located directly across the street from PIER 39. The PIER 39 Garage is open 24-hours a day, seven days a week. The garage clearance is 6 feet, 8 inches high.
FAQS
Can I buy tickets on-site?
Yes! Tickets can be purchased in person at the Blue & Gold Fleet Box Office at PIER 39, as well as on our website at blueandgoldfleet.com.
What do I need to bring to claim my tickets?
To claim pre-purchased tickets from Blue & Gold Fleet, please print out the confirmation page and bring it with you along with the credit card used to purchase your tickets. If you purchased tickets through a third party/outside vendor, you will need the voucher they issued you. Tickets for groups of 15 or more will be held at the Group Services Window.
What happens if I miss my tour?
We now have timed ticketing for our San Francisco Bay Cruise and Escape From the Rock Cruise. If you miss your scheduled time, we will do our best to get you on the next available departure. Stop by the Box Office to talk to a Blue & Gold Fleet representative about possibilities. For Sausalito, tickets may be used for the next available departure. For San Francisco Bay Ferry / WETA services, please contact them directly – sanfranciscobayferry.com.
Are there restrooms on the boats?
Yes, all boats have restrooms.
Are the boats handicap-accessible?
Our fleet is comprised of seven vessels that vary widely in age and design. Accessibility for passengers with special needs is consequently very dependent on the vessel. All vessels are wheelchair accessible and have assessable restrooms. However, wheelchairs can only access the main deck which houses the bar, the restrooms and wide open interior deck and viewing spaces. The upper decks can only be accessed by stairs thus wheelchairs cannot access the upper exterior decks.
What are the accessibility features on the Blue & Gold Fleet website?
Blueandgoldfleet.com has a feature on all pages where visitors can make accessibility adjustments to best utilize the website and view these adjustments in 10 different languages. Should you have questions or encounter an issue accessing blueandgoldfleet.com, please contact the Blue & Gold Fleet Administration Office at 415.705.8200, Monday – Friday between the hours of 8:30am – 4:30pm or email [email protected].
Are dogs allowed on the boats?
Dogs and other animals are allowed on the Blue & Gold Fleet vessels. The owner remains wholly responsible for the animal and must keep it on a leash or in an approved carrier at all times while on board. Failure of the owner to control an animal is grounds for removal of the animal and passenger responsible for the animal. The Master may refuse service if appropriate. Click here for San Francisco Bay Ferry's dog and animals policies.
Are bikes permitted?
Bikes are permitted on the Sausalito ferry. We operate on a first come, first serve basis. Please arrive 30 minutes prior to your desired departure. This service is free of charge.
Is there food on the boats?
Yes, there are snack bars on all boats that sell a variety of alcoholic and non-alcoholic beverages such as water, sodas and juices. Chips, chocolate and other snack foods are also available. No food or beverage can be consumed within an indoor space on any Blue & Gold Fleet vessel. Items purchased or brought on board can only be consumed on the exterior decks.
Are the boats covered?
Blue & Gold Fleet boats provide indoor as well as outdoor seating. Indoor seating is covered with weatherproof windows with protection against wind, rain and salt water. Outdoor seating is available in designated safe sections of the boats.
Does Blue & Gold Fleet go to Alcatraz Island?
Blue & Gold Fleet does not provide ferry service to Alcatraz Island. Blue & Gold Fleet's Escape from the Rock tour is a 90-minute fact-filled adventure cruise that sails under the Golden Gate Bridge and then circles Alcatraz Island, while passengers hear dark secrets and unique stories about life on the Rock. Buy tickets here. Visit the National Park Service's website for reservation, ticket or schedule information for Alcatraz Island tours.
Do you accept Clipper cards?
Yes, Clipper cards are accepted on the Blue & Gold Fleet Sausalito ferry and all SF Bay Ferry services (except for Oracle Park and Chase Center). Clipper is not accepted on the San Francisco Bay Cruise, Escape From the Rock Cruise or the Sunset Cruise.
Can I use a CityPASS® for a Blue & Gold Fleet Cruise?
Yes! Save 46% off a San Francisco Bay Cruise, plus 3 more top San Francisco attractions. Visit the attractions at your own pace, in any order, over a 9-day period. One easy purchase and mobile ticket delivery saves you time and money.  LEARN MORE
Do you have information on San Francisco?
Please visit San Francisco Travel Association's website: sftravel.com.
Can you recommend hotels and lodging?
Here are a few helpful resources: sftravel.com and fishermanswharf.org.